Ayam Pelung The Great Singing Chicken
Ayam Pelung is a great singing chickens breed. this birds is come as a giant and long crow chicken.
Most breeders interested in raising this is big birds has large size. The Pelung is rapid to development and increasingly interested after hearing the strains of crowing sound pelung chicken rhythmic / melodious and length.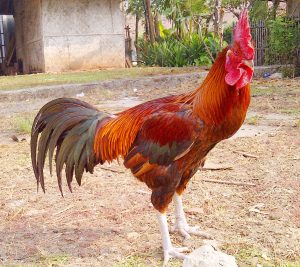 Fature :
Big Size
Pelung chicken is a free-range chicken breed with greatest weight. adult male can reach to  5 – 6 kg weights, and the females can reach of maximum 3.5 kg. Amount to the weight growth is making the pelung chickens also called as giant chickens.
Fast Growing
Pelung also development more faster than the other chicken breed. the birds is growing so fast.
Great Voices
Most interesting of pelung chicken is crowing melodious voice and long. and their sound is not only long, the sound of pelung is also has melodic voice truly like a song.
Specification
Breed Name : Pelung
Purpose : Singing Chicken / Longcrow
Type : Large Fowl
Size : Large
weigh : Male 3 – 6 Kg | Female 1 – 3 Kg
Color : Variation
Egg Production : 80 / year
—- Size : 90 – 135 Grams
—- Color : Cream / Brown
Origin : West Java – Indonesia
Gallery